Date/Time
Date(s) - 05/11/2013
12:00 am - 11:00 am
Location
Ashley High School Track
Category(ies) No Categories
Event Registration
NHCS Teacher Trot
Description: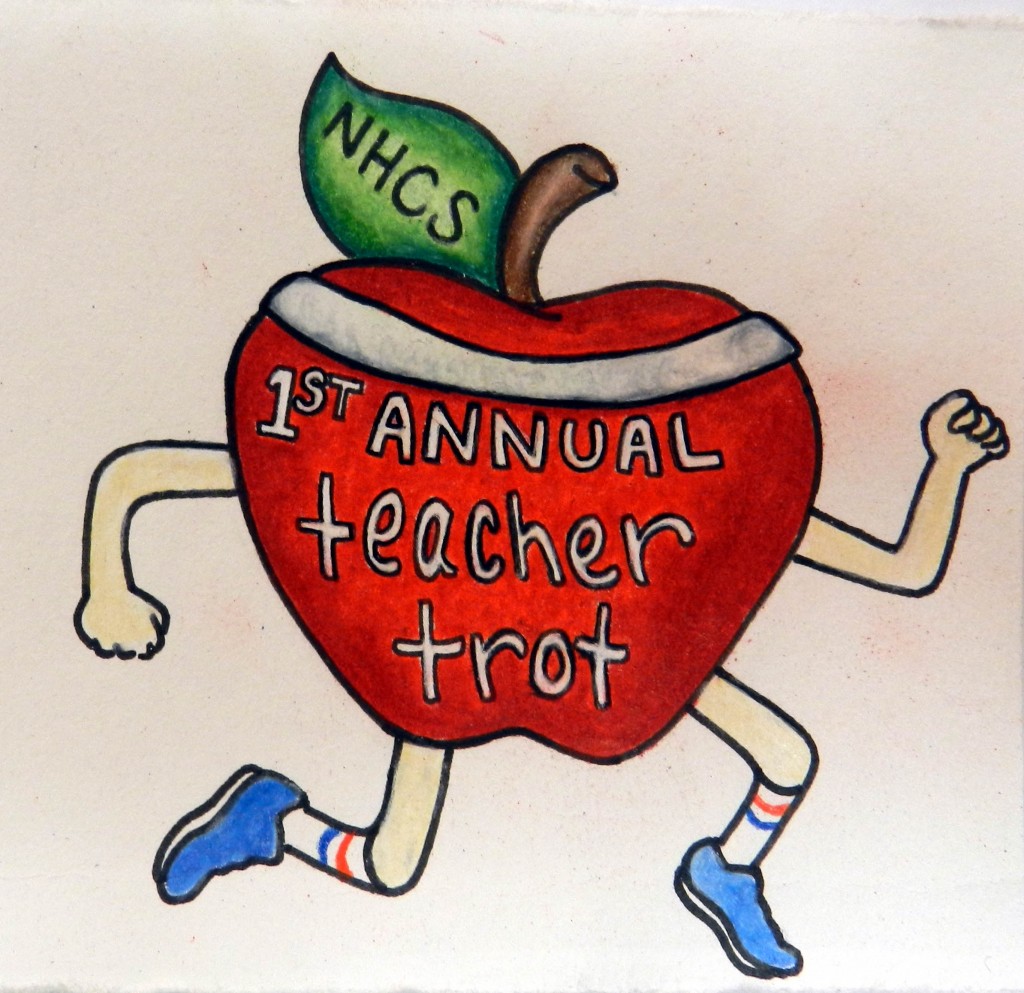 Presented By
New Hanover County Schools
DATE OF RACE:
Saturday, May 11
TIME OF RACE:
8 AM
LOCATION OF RACE:
Ashley High School Track
555 Halyburton Memorial Pkwy
Wilmington, NC 28412
TYPE OF RACE:
5K
DESCRIPTION OF RACE:
The inaugural NHCS Teacher Trot is geared to encouraging students, staff and entire community wellness. This event is not only a 5K for the entire community, but a chance to celebrate the completion of the Couch to 5K program for school staff members. As a school system, we want to motivate and encourage the entire community to be more active on a daily basis. The proceeds of this 5K will provide schools with much needed funding for both student and staff wellness initiatives.
RACE FEES:
Prior to May 9: $25
Race Day: $30
New Hanover County School Students: $15
RACE SHIRTS:
Race Shirts sizes include Adult and Child sizes.
PACKET PICK-UP:
Friday, May 10
4pm – 7pm
Location TBA
Saturday, May 11
7am – 7:40am
At the Race Site
AWARDS:
Top 3 Overall Male & Female Finishers
Top 3 in Age Groups: 9 & Under, 10-14, 15-19, 20-24, 25-29, 30-34, 35-39, 40-44, 45-49, 50-54, 55-59, 60-64, 65-69, 70+
Top 3 Overall Teams
Best Team Spirit
Most Team Participation
RULES & GUIDELINES:
The Waiver & Liability Form is attached to the Online Registration. This must be checked and approved to participate.
Online Registration closes May 9. On-Site Registration will be available at 7am -7:40am day of the event at the race site.
I.D. required to pick-up race packet
WAIVER
I know that running/walking/obstacles in the NHCS TEACHER TROT on May 11, 2013 at Ashley High School Track; and any road race, is a potentially hazardous activity. I should not enter and run/walk/obstacles unless I am medically able and properly trained. I agree to abide by any decision of a race official relative to my ability to safely complete the obstacle run/walk. I assume all risks associated with running/walking/obstacles in the NHCS TEACHER TROT and any Go Time! events by Hackman Events LLC. This includes – but not limited to – falls, contacts with other participants, the effects of the weather including high heat and/or humidity, low temperature, traffic and conditions of the road, all risks being known and appreciated by me.
Having read this release and knowing these facts and in consideration of your accepting my entry, I,for myself and anyone entitled to act on my behalf or on behalf of my estate, waive and release GO TIME, HACKMAN EVENTS LLC, NHCS TEACHER TROT, NEW HANOVER COUNTY SCHOOLS, NEW HANOVER COUNTY BOARD OF EDUCATION, ASHLEY HIGH SCHOOL, COLIN AND MICHELLE HACKMAN and all sponsors of the race, any other persons assisting with the race, the officers, Board members, agents, servants, employees, and their successors and assigns of each and every of the above from all claims or liabilities of any kind arising out of my participation in the run/walk/obstacles even though the liability may arise out of negligence or carelessness on the part of the persons referred to in this waiver.
I also grant permission for the use of any photographs, motion pictures, recordings or any other record of my participation in this event for any legitimate purpose. I understand that if the race is canceled because of circumstances beyond the control of the race committee and sponsors, including, but not limited to unsafe weather conditions or governmental ban, my entry fee will not be refunded.